With most FAWNL teams involved in cup action, just three games were played in the FAWNL Division One South East this weekend.

Unbeaten AFC Wimbledon hosted Norwich, AFC Basildon were back at home to entertain Cambridge United and fifth-place Enfield travelled to bottom side, Kent Football United.
AFC Basildon overturn deficit to secure 3 points
After beating Phoenix Sports in the FA Cup and knocking a strong Southampton Women's side out of the FAWNL Cup, AFC Basildon began the month perfectly and hoped to take that momentum into the league.

They welcomed Cambridge United to Canvey Island, a side that has only managed one win in their previous ten outings; their solitary victory coming against Kent Football United. Most recently though, they faced Norwich in a league and cup, earning a point away from home before getting knocked out of the FA Cup.

Despite controlling the ball for large parts of the half, and an early Abela attempt at goal, it was visitors who took the lead through Blanchflower after 36 minutes. Kelley Blanchflower netting for the fourth time this season for United.

Cerys Adams restored parity after 65 minutes when she bundled in an effort following a corner.

The turnaround was complete shortly after, and once again it was Adams for the home side, striking brilliantly to complete her brace and give AFC Basildon the lead.

Scores remained unchanged as the ref blew his whistle to conclude the game, the Essex side earning another comeback victory to secure a hard-earned 3 points.

AFC Basildon 2-1 Cambridge United

The result doesn't see any positional changes for either side, but strengthens The Blues' grip on sixth-place and extends their winning streak to three games. United remain 10th.

Both teams return to cup action next weekend with Cambridge hosting Maidenhead United at the Premier Plus Stadium, while AFC Basildon have business with another Cambridgeshire side, Cambridge City, in the FA Cup.
The Dons move up to third
AFC Wimbledon's league season has been somewhat understated, and while the focus may remain on Billericay and the Tractor Girls at the top of the division, the fact remains that The Dons are currently unbeaten – a feat only managed by 7 (of 71) FAWNL sides. They welcomed seventh-place Norwich looking to build on a cup win against Cambridge United last time out.

After a somewhat back-and-forth opening 30 minutes, Helen Ogle and Katie Stanley combined to provide for Liz O'Callaghan to give The Dons the lead.

But despite continued pressure from the hosts, it was the Canaries who struck next, equalising five minutes before the interval through Kathryn Stanley. A low driven shot past Ferguson made it 1-1 heading into the break.

There would be one final twist before half-time however when O'Callaghan lobbed Hope Armstrong to score her second of the game and restore the home side's lead in the 43rd minute.

With just under an hour on the clock, The Dons extended their lead to two goals when Katie Stanley's cross was met by the head of Hannah Billingham to make it 3-1.

With a few opportunities, but no further goals for either side, the game ended 3-1.

AFC Wimbledon 3-1 Norwich City

The win sees The Dons secure their fourth consecutive win to leapfrog Leyton Orient into 3rd place, while Norwich remain 7th.

Next up, both teams embark on the road to Wembley as Wimbledon travel to Enfield, while Norwich face high-flying Ipswich Town in the FA Cup.
Enfield win on the road
Currently fifth, Enfield came into the game in decent form having won 3 of their 5 most recent matches, with wins coming against Harlow Town, Actonians, and Islington Borough. They also recently managed to take Southern Premier side Yeovil Town to penalties in the FAWNL before losing 4-2 in the shootout.

Hosts Kent Football United currently find themselves pointless at the foot of the table having only won once this season, but those involved with the team have noted continued improvements in recent weeks heading into Sunday's game.

After a goalless first half, Enfield struck twice to secure victory on the road. The first courtesy of Hannah Baptiste three minutes after the restart to open her account for the season, followed by a second from Tia Bailey in the 53rd minute to earn all 3 points for Town.

Kent Football United 0-2 Enfield Town

The result means no changes in the league table for either side; Enfield remain fifth, while Kent occupy 12th place. But the return of captain Tash Moloney and continued signs of improvement noted from their manager and Becky Mackley give Kent definite cause for optimism going forward.
"Loads of positives and improvements have been evident in recent weeks and I have every confidence in this group we will get the win next week."

Sam MacNeil – Manager, Kent Football United.
How things stand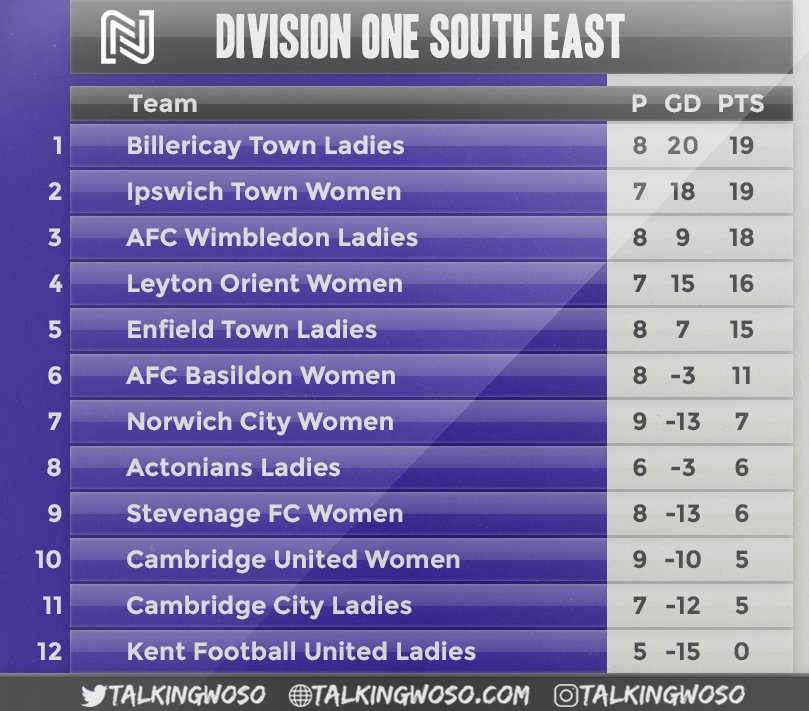 ---
---
Categories: ROUND-UPS